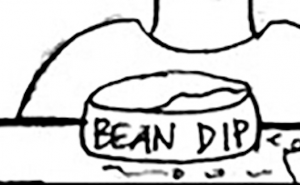 The pleasing vocal pipes and inky drawing pen of Vanessa Jo Harris is responsible for Gothtober DAY 19's dreamy, d00-wop treasure of a song… accompanied by a raspberry of a wacky comic! We think that if you like legumes, harmony, romance and ghosts, this is definitely the day for you.
It's Vanessa's first Gothtober, and it's because I just couldn't shut up and asked her if she wanted to be a  part of it and she said "Sure!" Did I have any idea of what she was capable of? Certainly not! But is this EXACTLY WHY Gothtober is lots of fun for a Candy Corn like me? YES! Gothtober is a kick in the pants for anyone who is creative, or anyone who is thinking about doing something creative. We are here to be a catalyst for those who want fire for their marshmallows.
In the spirit of making something, Ms. Harris just decided right then and there that she'd give Gothtober a whirl, and now look at us! 
For those of you who are not sure how to goad music and fart cartoons out of people, here is the answer: Ask, and ask nicely.