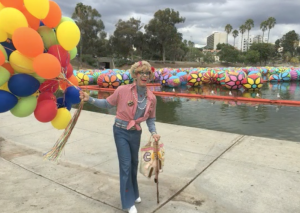 Aunt Connie has been in Gothtober films before, we're happy to have her again! Barry Morse put it all together, we follow Aunt Connie all over town, but someone is spying on her! Someone's got a camera, what are they doing?
Aunt Connie has plans of her own, a type of departure some of us know about, and some of us have yet to know. Normalizing the difficult and the morbid is tough in a society that doesn't really want to dwell on such subjects. Aunt Connie approaches such subjects approaches such things in a way that is hers, a way that is different. We need more of this.
She doesn't really seem to give a hoot, whatever we think, galavanting along MacArthur Park, balloons in hand, feather duster at the ready, there goes everyone's favorite Aunt! Aunt Connie! More power to her!