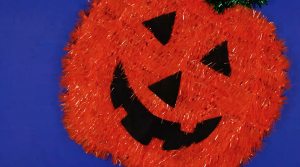 There is a LOT of candy in today's Gothtober 23rd cinematic jaunt, so much that you may feel your glycemic index go up just a bit watching today's animated diversification of candy craziness!
Jenny Walsh, fim maker, commercial animator, teacher, and martial arts mama has recruited her sons, Harry and Liam, to help her make the shapes march and twirl across the candy screen! They could not be learning from a better animator, Jenny Walsh's locomotion skills are to be envied, she knows analysis and locomotion, squash and stretch, the rhythm and blues of making stuff move. Habitually, Jenny Walsh is always Day 23 on the Gothtober calendar, so for past glimpses of her greatness, visit the Gothtober archives and check out all of the twenty-threes.
It is indeed a conspiracy, a plot to inspire trick-or-treating and rabble-rousing of the best kind. 
You'll dig the 8-bit soundtrack, colors and composition of this animated piece. Jenny's husband, Dave, did the editing and post, so it really is a family affair!