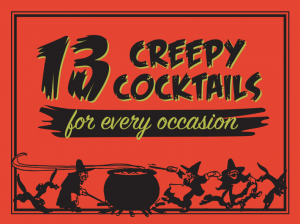 Click on Gothtober DAY 11 and receive a delicious and ghastly presentation from Dianne Chadwick, drink vampiress extraordinaire! If you've been stumped at what to serve at your Halloween cocktail party, fear no more, here we have thirteen wonderful recipes to knock people's heads off… literally. From the "Corpse Reviver" to the "Bitter Pumpkin" there's plenty to add to your boiling cauldron this month that will impress all of your ghoulie guests.
Serve these drinks in themed glasses, if you have the option. If you can find garnishes that call to mind things like severed fingers or bloody eyeballs (or you know, in a pinch, the real thing is even better.)
Nothing builds friendship and good times like wormy ice cubes and plastic spiders. 
We're considering trying each and every one of these before October is done, we're very goal oriented around here.