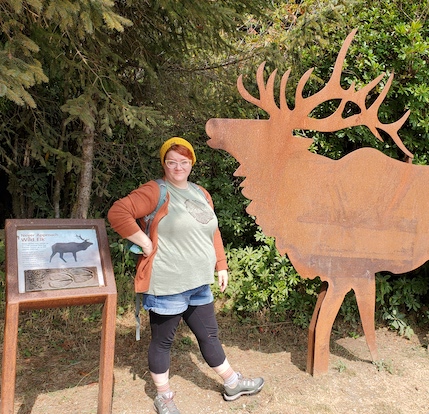 Today for Gothtober DAY 15 we've got quite the wild interlude with Lori Meeker! Follow along with Lori as she uses her wits to do some hunting in the big green forest! Here are some words from the filmmaker herself:
There are a whole lot of creepy crawlies that roam in the forest. Bats, bugs and the occasional Sasquatch top the list, but have you ever heard of a Chipalope?
Inspired by the legends surrounding the California Redwoods and a little roadside attraction called Confusion Hill, comes a new story all about this little horned woodland creature.
This tale is a part of a larger universe called Welcome to Meadowlark Falls, a theatrical experience that creates the feeling of a Hallmark Christmas movie and puts YOU at the center of it. Honoring the genre, and spoofing it too, our friends at Meadowlark Falls General Store create a story filled with Christmas, cookies, love and a Chipalope here and there.
This year we are offering a limited amount of an at-home experience that is sure to set your holiday season off right. Check out more at welcometomeadowlarkfalls.com and find us on Facebook, Instagram and Twitter under the same name. Merry Christmas…. er uhm I mean HAPPY HALLOWEEN!