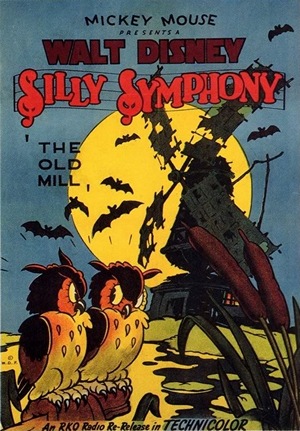 Well well well, whaddya know, it's 2017, and the Gothtober worm turns! Time to gather some wood and start a fire for the cauldron. While we're doing that, we've got something for you to watch.
From 1937, here's a little something to share, a somewhat pastoral and stressful animated evaluation of an abandoned windmill's structural integrity during a passing storm. Will the windmill's delicate eco system of residents survive the weather's blustering braggadocio? Well we honestly just don't know!!! It's a stressful movie, because there's a whole situation involving a mother bird and a water wheel that is not for the faint of heart. This film, a favorite of  Hayao Miyazaki's, is beautiful because of it's lush colors and painterly style, along with an appreciation for creatures of the night and their engrossing nocturnal antics.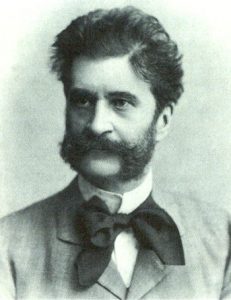 The Silly Symphonies cartoons were intended to accompany larger features, all of them set to compelling musical soundtracks. This film uses "One Day When We Were Young" from Johann Strauss II's operetta The Gypsy Baron. The Gypsy Baron is quite a fun operetta featuring mistaken identity, young lovers, old lovers, comic rustics, and buried treasure! It still gets played quite a bit today. Strauss the younger is possibly the most popular composter of all time, his nickname being "The Waltz King." If you'd like to see this piece conducted by one of the 20th century's greatest conductors (Carlos Kleiber) lead the Vienna Phil in performing it, by all means, check this out! At 6:13 you can hear the clarinet performing one of the most difficult excerpts in the history of the instrument, a sassy A-G#-F#-G#-A-F#-B-F#!!!
But THIS Silly Symphony is different than all the others because it is the FIRST to use the multiplane camera! It was a huge game changer in the industry that opened doors to special effects as we know it. Multiplane is basically shooting downward on a "layer cake" of backgrounds and elements on transparent glass platens. Pieces are tracked and animated at different speeds and distances, giving the impression of 3-D, although not stereoscopic (to be clear). It was invented by the largely overlooked and terribly under-appreciated animation titan, Ub Iwerks, then of Disney studios. The technology was further refined throughout the late thirties, officially tested on The Old Mill (seen above) which won an Academy Award for Animated Short Film in 1937. Multiplane was then used to make Snow White and the Seven Dwarves, Pinnochio, Cinderella, Peter Pan, and many other films. Now we have digital multiplane cameras, the last animated film to use multiplane the old-fashioned way was Disney's Little Mermaid.