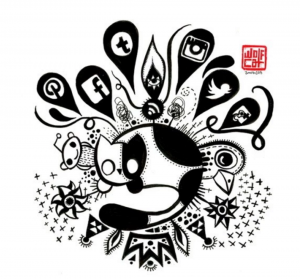 Visit www.gothtober.com and visit DAY 10 to get your Gothtober Treat! 
Living and working in Los Angeles, making piece after experimental piece, using lines to communicate shapes and colors, lives the marvelous art wizard, Federico Tobon. I like to imagine him in an exciting tiny yurt on the top of a rickety mountain. The art yurt is very difficult to get to, surrounded by oceans and obstacles at every turn, and Federico is always there, making new things for the world.
He makes drawings, he makes wooden automata, he sews things, he's always tinkering away and sharing his progress day by day. It brings inspiration to me all the time, knowing that he's out there flexing his art muscles, eating rice and beans, hanging out with his cat and working on his quest to unite his visual output with his maker spirit.
He's made us a free download-and-print crafty project, a mask that you can wear to your next costume party! Wear it and then tell everyone it wasn't you sneaking all the Halloween candy, and they will believe you, since you'll look completely unrecognizable. Better yet, make Federico's mask, wear it, take some photos and show us how you're wearing your original 2016 Tobon Gothtober Mask!
Wolfcat Workshop featuring the work of Federico Tobon has all kinds of curiosities for you to explore. Get his newsletter, go shopping for Tobon originals, see what he's focusing on now, send him a card! His blog will show you his newest art activities, it'll make you want to get going on your own projects, I highly recommend it!