DAY 7 on Gothtober is all about CANDY.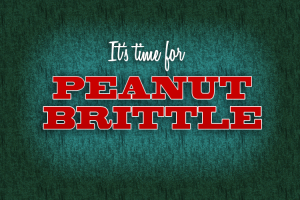 There are people who give out toothbrushes to trick or treaters, and then there are the people in the world who are ALIVE. Halloween is not about restraint, or making sense, or paying attention to limits, or going on a diet. Halloween is about rotting your teeth. That's why we believe this recipe for Peanut Brittle isn't just a recipe, it's a Public Service Announcement.
Sure, you can buy peanut brittle and stuff your face and lay on the couch and moan and feel regret, but why do that when you can really fall down the rabbit hole and make your own? If you're going to feel like you ate too much peanut brittle, make sure it was good peanut brittle. And make sure you did the work that it takes to make delicious, crunchy, melty, peanutty peanut brittle, because the work makes it taste better.
Anything you have to stir for more than a half an hour deserves your attention and appreciation. We recommend that you make this recipe with a friend, because it's fun to take turns stirring.
And hey, it's true, the dentist isn't going to be thrilled with your peanut brittle consumption. But it's Halloween. And it's real sugar, real butter, real peanuts, and it's home made. There is a difference, and no dentist can deny it. It's time for Peanut Brittle.