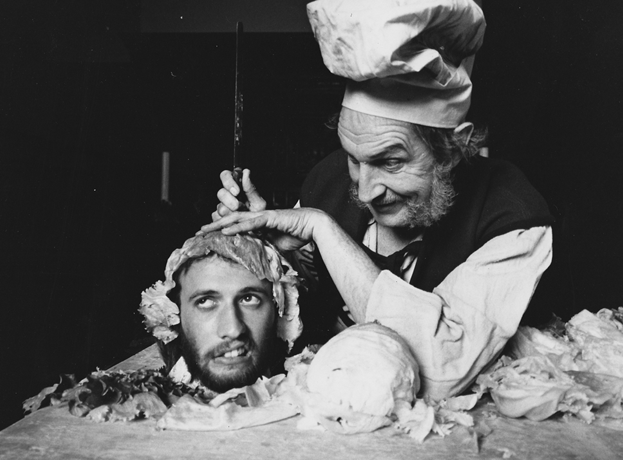 Vincent Price was really into art, and really into food, and he published a book with his wife many years ago called A Treasury of Great Recipes that I would stare at from time to time during my childhood. It sat in a prominent spot on the cookbook shelf in the family kitchen, and it was perhaps the first time I understood that an actor could have interests outside of being on stage or on screen. Mr. House of Wax put together a fine list of recipes with his wife, and it is a collector's item today, available on Amazon in mint condition for about three hundred bucks. Published in 1965, this book with it's padded faux leather copper exterior and gilt lettering doesn't have fast recipes, it's got recipes you slave over slowly with love for food. It's also peppered throughout with beautiful pen and ink illustrations and harkens back to those globetrotting Pan Am days of travel and romance that Mary and Vincent Price were enjoying with true appreciation and wonder.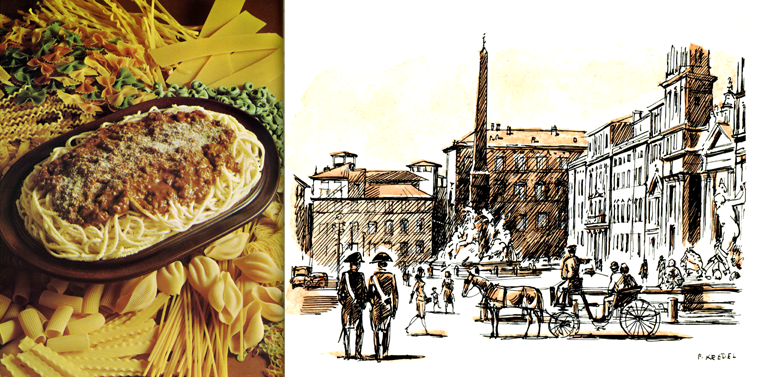 I called Bill Parr (Dad), and asked him to pick one of his favorites from the book that might be an easy recipe for Gothtober readers, and so here you go, from the vault of Gothtober Dad's recipe bookshelf is Vincent and Mary Price's recipe for Spaghetti alla Bolognese. Kind of  a great thing is that while it seems that Mary and Vincent were at Tre Scalini a long time ago, the restaurant opened in 1815 and is open for business even today!  Just try to read this recipe without hearing Vincent Price's voice. Bon Appétit!
[column-group]
[column]INGREDIENTS:
Spaghetti
Onion
Carrot
Celery
Tomato Puree
Garlic
Butter
Lemon
Bay Leaf
Beef
Bacon
Chicken Livers
Dry White Wine
Beef Stock
Parmesan Cheese
Salt, Pepper
Olive Oil
Cream
[/column]
[column]INSTRUCTIONS
SAUCE: In a heavy skillet heat 2 tablespoons butter and 2 tablespoons olive oil. Add: 1 onion finely chopped and cook until soft.
Add: 3 rashers lean bacon, cut into small pieces, 1 carrot, chopped, and one stalk celery, chopped. Sauté over medium heat until lightly browned. Add 1/2 pound beef, coarsely ground, and stir until meat is coated with fat.
Add: 2 chicken livers, minced. Stir until meat browns evenly. Add 2 tablespoons tomato puree, 1/2 cup dry white wine, 1 cup beef stock, 1 bay leaf, and 1 strip lemon peel (thin yellow skin only).
Season with: salt, freshly ground pepper, and 1 clove garlic, crushed.
Cover and simmer for 40 minutes, stirring occasionally. Remove bay leaf and lemon peel and allow to simmer uncovered until sauce thickens slightly. Just before serving stir in: 1/4 cup cream and reheat sauce. (Makes 1 pint.)[/column]
[/column-group]
Tre Scalini has a sidewalk café just off the Piazza Navona. You can sit at a table outside and enjoy the view of Bernini's fountains over an ice cream, or go indoors and enjoy the view of their sumptuous buffet over a dish of pasta. Only people who loved their pasta could have invented so many charming shapes for it. But the great classic dish remains spaghetti with savory meat sauce.

Tre Scalini, where Mary and Vincent Price went on holiday, savoring the local cuisine
SPAGHETTI: In a large pot pour: 3 quarts of water. Rub a little olive oil or butter around the sides of pot above water line. This will prevent water from boiling over when you cook the spaghetti. Add 1 tablespoon of salt and bring to a rapid boil. When water has been boiling briskly, take: 1 pound spaghetti and feed by handfuls into the boiling water. Dip one end of the spaghetti sticks into the water, and as they get soft let them coil into the pot. Never break them. Stir with a wooden spoon occasionally.
If you are using packaged spaghetti, cook for about 12 minutes, or according to directions on package. It should be soft but firm when you bite it. (The Italians call this al dente, or "to the tooth.") Homemade pasta will need less time to cook – only 5 to 7 minutes. Drain cooked spaghetti in a colander over a pan of boiling water and covering it with a towel wrung out in warm water.
PRESENTATION:
Place spaghetti on a warm platter and dot with: 4 tablespoons butter. Sprinkle with: 4 tablespoons freshly grated Parmesan cheese. Serve with meat sauce on the side, or in the center of the platter with the spaghetti around it. Pass a bowl of freshly grated Parmesan cheese with the platter.