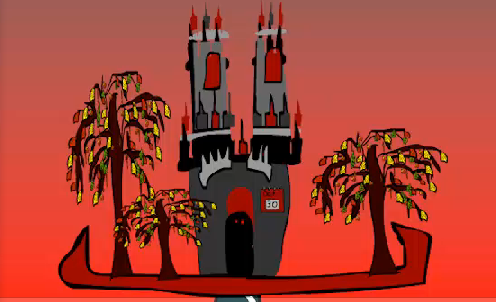 If you like birds, projection booths, lonely castles, hot air balloons and disco dancing zombies, never fear, DAY 22 is here!
Kristen Pepe does it again! With a wonderful little film absolutely packed with really cool monsters and cats, skilled and pretty color combinations, and some totally fantastic pop culture reference clues that make this short film enjoyable for everyone! For instance: did you notice the Night of the Comet movie poster in the theater where the projectionist bird works? There's also reference to a certain teen witch, as well as some zombies who come out to play.
This piece is not unlike the sitcom Three's Company in that there is a misunderstanding of a situation (in this case, Blue Monster doesn't understand that Halloween isn't about getting bullied, it's about dressing up and having mischievous fun) and calamity ensues. There is plenty of calamity, and heartwarming selflessness as friends help each other, and there's even a few spells you want to remember.
If you're hidden away in your lonely castle, don't end up like the Phantom of the Opera, come out and play with us this Halloween!