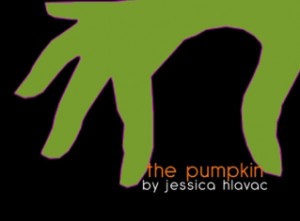 Ice Cream

Jessica Hlavac is DAY 1 of this year's Gothtober, and I'll tell you why:
One day, Jessica told me she was having an art opening, so I decided to check it out, and GEE WHIZ, I had no idea that Jessica makes TINY SCULPTURES!
I mean tiny. I mean, like… did she sculpt that with her eyelashes?!? Tiny.
Look at that ice cream cone, it is sitting in a spoon. The spoon has room to spare.And then, check out this sushi plate: it's sitting on a QUARTER. This fish will not satiate your hunger, but it will be a feast for your eyes… get out the magnifying glass!
Jessica's piece celebrates Gothtober in a cheerful and unexpected way, she even had a few squashed specimens in trying to make her movie. Squash… har-de-har. "The Pumpkin" is perfectly expertly magically weirdly fun, and we're extremely proud to have Jessica start this year's Gothtober.
If you'd like to find out more, you can visit Jessica's site I'm so Tiny and also visit her Etsy Store where she sells limited edition prints of her work, and if you don't see that perfect food you love in miniature form, you can request custom items!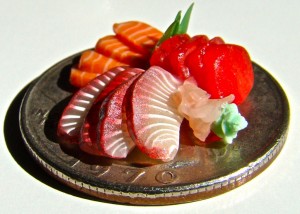 Gothtober artist fun fact: Jessica made a cameo appearance as a pumpkin patch tour guide in Sebastian Johnson's DAY 22 of Gothtober 2004.