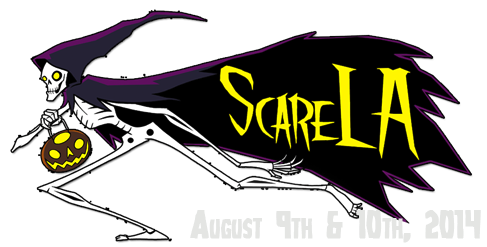 Scare LA
August 9th and 10th
The Reef (formerly LA Mart)
Scare LA is Halloween convention in Los Angeles, the first of its kind, this will be its second time frightening the hell out of us with it's maybe-to-convincing severed heads, pumpkin guts and ghastly noises which means YOU HAVE TO GO. If you like all things that creak, squeak and growl, if your idea of a good time is to gaze at brains in jars or eerie looking gentlemen with pallid complexions and dark clothing, this is only the tip of the iceberg.
It's not just about the gawking, however, it's also about learning from the best if you want to build your own worlds with monsters, zombies or vampires. Whether it's make-up, scenery, props or wardrobe, there are people here whose experience is unparalleled serving on panels, teaching classes, making themselves available to share all the haunted knowledge you could shake an axe at… or  bloody stake… whatever, you get the point.
It's also packed with workshops, performances, films, special guests, games, vendors, and interactive experiences!