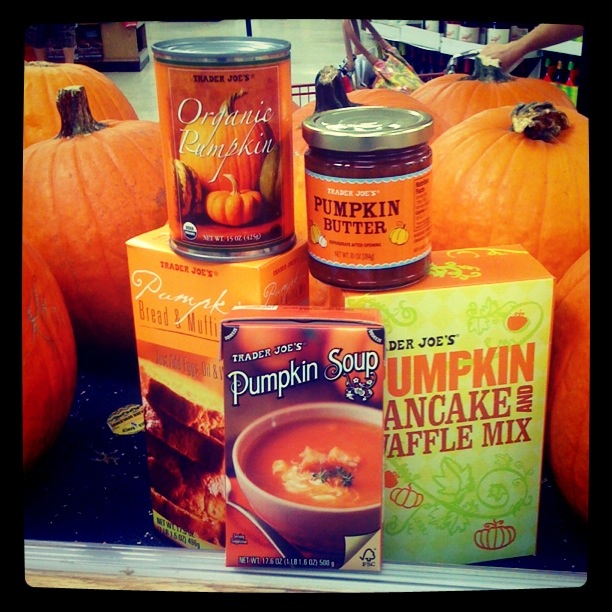 The pumpkins are coming the pumpkins are coming!
No wait… the pumpkins are HERE! On Saturday, September 22, at 10:49am it will officially be Autumn! Our hours of daylight shall ever so sneakily begin to recede, and you will start to sense the cinnamon and clove scents in the air from the crazy "fall mania" that hits stores this weekend.
Leading the pack with a delicious assortment of fall pumpkin items is Trader Joe's! No, they didn't pay me to write this, it's just great that you can go somewhere that won't cost an arm and a leg to get yourself some easy-to-make pumpkin treats for all your equinox needs. It is absolutely NO JOKE that I went to a fancy culinary website to see how much their lil' bag of pumpkin bread mix costs and almost lost my mind that it is a whopping $21.00. Who is fool enough to buy pumpkin bread that costs TWENTY ONE CLAMS?!?
I don't care how many "roasted Texan pecans" are in the bag, that's a hell of a return when you consider that Trader Joe's pumpkin bread is only $2.99 and even if you purchase pecans separately at TJ's you're not going to get anywhere near $21.00!!!
Takes my breath away, land o' goshen the times we live in, they'd sell you your eyeballs to you right out of your own head if you let them! Shop smart, dear consumer!
Anyway, stock your pantry this fall, get into your cords and dust off your light jacket, time to go a hunting for classic fall flavors like nutmeg, allspice and hot apple cider.