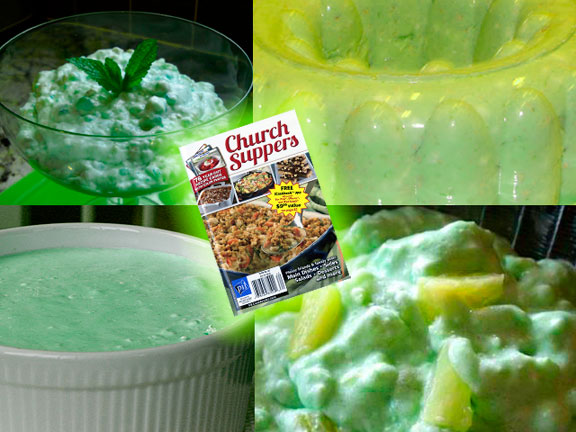 We're on a food bandwagon for the moment, finding ways to bide our time until Gothtober launches, and since we've been covering autumnal or scary foods, I thought I'd focus on a "scary" one that surprisingly, offers some history. It all started when my friend, Shannon Gallagher, handed me Church Suppers from Publications International, Ltd. saying "Oh, I've been meaning to give this to you."
This collection of edible Americana is a dedicated treasury of time-honored baked, boiled, whirled, tossed, stirred and chilled masterpieces that have graced the counters and tables of religious organizations across the nation. But of all the casseroles, gelatins, puffs, spreads and crunches, the one that really conveys a pious yet humble and down-home type of American determination might be "Seafoam Salad."
Seafoam salad is mint green, but tastes nothing like mint.
Seafoam salad is full of surprises.
The very illustrious and strange Seafoam salad was popularized by the lunch counter at Woolworth stores (officially open for business in 1878) and exists within the pantheon of the all-time great dessert salads. Unlike Waldorf salad (first created between 1893 and 1896 at the Waldorf Hotel in New York City) Seafoam salad's dominating flavor leans toward sweet, not savory. Over the years, depending upon the region you were raised in, a Seafoam salad might contain pears or pineapples, maraschino cherries, mayonnaise or other unknown variations with the purpose of providing a "high performance" eating experience for luncheons, schools and congregations of sorts.
Seafoam salad is green and creamy or lumpy, which seems sort of like a perfect Halloween dish to me, which is why I'll share this current version from PIL's Church Suppers so that you have the most up-to-date version on hand.
INGREDIENTS:
2 cans (8 oz. each) Crushed pineapple in juice
1 package (4 serving size) lime gelatin
1 cup boiling water
1/2 cup cold water
1 package (8 oz.) cream cheese
3/4 cup coarsely chopped pecans
2/3 cup celery slices
1 1/2 cups thawed whipped topping
1.) Drain pineapple in sieve. Squeeze pineapple to remove most of the juice. Reserve 3 tablespoons of juice
2.) Place gelatin in medium bowl; stir in boiling water until gelatin is desolved. Stir in cold water and reserved 3 tablespoons pineapple juice.
3.) Beat cream cheese in large bowl with electric mixer until smooth. Beat in 1/4 cup gelatin mixture until blended. Slowly beat in remaining gelatin mixture. Chill until thick, about 1 hour.
4.) Stir in pineapple, pecans and celery. Fold in whipped topping. Pour into clear glass serving dish. Chill about 2 hours or until set.
Makes 8 to 10 servings, WOOOOO!