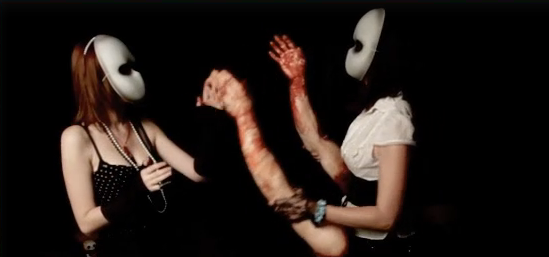 Hold the phone, did I just see someone playing jump rope with intestines?!? Must be very close to Halloween, and Dapper Cadaver's Day 25 is a nice reminder that you really need to let out that inner child… or die trying. Eileen Winslow's directorial debut is playful and horrifying, just the way we like it! You'll be delighted after the nightmares subside!
Listen to the melodious accordion and various sound sensations as a vaguely robotic and gauze-covered voice sings you a childhood favorite, while a pair of sisters (? just guessing) help us revisit a time when everything was sweet and perfect. When is the last time you played hopscotch? How about a fun game of catch? A tear may glisten in your eye as you recall the pastimes of yesteryear, when things were simpler, less complicated. Or you may have a completely different reaction to this piece altogether, though it is a headless piece, it's full of heart (and arms… and uh… bones… um…)
If you've never been to Dapper Cadaver's unassuming building on San Fernando road, and you are in need of bizarre items in decorative glass apothecary jars, or perhaps you need a foam pick-axe that will fool even the most discerning weapons master, or even if you just need lots and lots of HEADS, this is your place. The work and care taken by Dapper Cadaver to make the most authentically macabre props for television and movies (Dexter, Bones, Law & Order) as well as countless haunted houses  (including The White House) could be described basically as "beautifully awful." Even though everything fabricated here is totally fake, you will nevertheless experience a creepy unease that is absolutely involuntary and thrilling. Dapper Cadaver is unsettling and wonderful because it is haunted with not only terrifying specimens, but the energy and aura of a fiercely creative and innovative mad laboratory and factory working at a feverish and depraved pace. Sometime, just for fun, tell a good friend you have some "errands" to run, and have them tag along with you to Dapper Cadaver, watch them freak out in horror and wonder.