Make it a double, Sam, it's time to sit down and celebrate the 51st anniversary of Bewitched!!!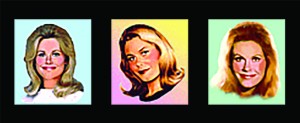 Gothtober is being built, we're almost ready to launch, but for your perusal, here's something fun to distract you, from the TV archives!  Bewitched is about a housewife witch and her family that was filmed on Warner Bros. Ranch starting in 1964. It was about a witch in modern times, but it was also about drinking! A LOT of drinking!  View this drinking guide that lets you know which characters drink in what episodes and how much. Here's a list of swanky bar names for the following episodes:
# 24 – The Diamond Slipper 
# 57 – Dundee's Bar – Darrin refers to it as the best restaurant in town 
# 69 – Purple Popsicle night club 
# 108 – Joe's Bar and Grill – Darrin drinks heavy 
# 109 – Happy Times Bar 
# 126 – Hearthstone Bar/Restaurant 
# 159 – Golden Spoon Restaurant 
# 217 – Elbow Room Cocktail Lounge
The most drinking-est character is Darrin, followed by Samantha, Larry, Endora, Louise, and then there are a host of other minor characters that take part in cocktail hour. Seems like everyone in 1964 had a cigarette between their fingers and a highball in their hand. Enjoy visiting yesteryear with this marvelous collection of clips, make yourself a strong one, wiggle your nose and press play.