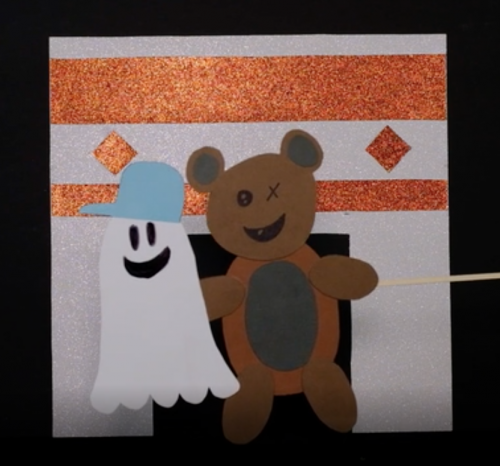 Just WHO are Ozzy and Billy and what is in store for them? Visit DAY 4 on www.gothtober.com to find out, this is one wonderful weird short to start your week, from a crafty dynamic duo.
Dressed for Space are long-time friends John Booher and Shannon Dedman. They met on OKCupid way back in 2004 and have had possibly gallons of coffee and/or whiskey together since then. 

John (camera, audio, effects, editing, direction, "Billy") is an experimental musician who has many, many things with knobs and dials and levers and cables and pedals and strings and blinky lights. During work hours he saves children using databases and math. He makes a perfect rare steak.
For this Gothtober piece, John wanted to use the creative opportunity to learn how to use the free DaVinci Resolve editing and effects software and kinda knocked it out of the park.
Shannon (sets, puppets, puppeteer, opinions, "Ol' Man Ozzy") is also known to Gothtober as Lady Mellocreme Fairchild III. She/they are a retired (emphasis on "tired") prop master and set decorator now blissfully working in the 9-5 world.
Shannon is a ProjectQ volunteer, sometime puppet maker, new cat mum (Hi LuLu!), baker, and (mostly) nice person who is having an awful lot of trouble talking herself up at this moment in her life.