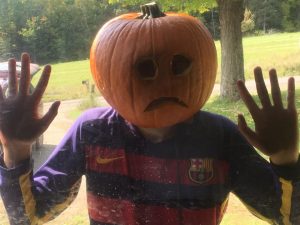 Go to www.gothtober.com and visit DAY 1 to see "Pumpkin Heads" the movie by FONZIE!
It's officially pumpkin season! What better way to feel the magic of the squash than with REAL LIVE PUMPKIN HEADS running down your street?!? This sweet friendship film comes to us all the way from Vermont, where the leaves were just starting to change a few weeks ago when this piece was made. Fonzie is the altar ego of Alison McHaffie Bergman, who made this film with her husband (go ukulele!) and some very well-disguised individuals wearing hollowed-out vegetables over their craniums.
FUN FILM MAKER FACT:

"As we were shooting our movie, a guy in his car rolled down his window and yelled out "Pumpkin Head!!!" but this piece actually has TWO pumpkin heads, hence the title. 
I asked Alison to share some "Vermontian Fall Finery" with us, and she sent these pictures of some pumpkin innards (omg the innards of one of her film star's heads!!! So gory!!!), beautiful red leaves, and the Cabot Plains Cemetery, which was established in 1822.
A very Happy Gothtober to Alison and family, thank you for wearing ACTUAL pumpkins on your heads, you really went the distance!
Read Fonzie's and other Gothtober contributor's bios here!