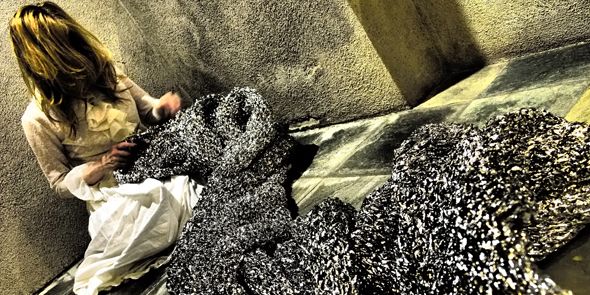 All the way from Edmonton, Canada is a dance piece that will make your face melt off by Nancy Sandercock! Visit Gothtober and click on the Book on the shelf with the number 2 on it that is titled "Of Lice and Men."
Watch Nancy's visceral, frenetic, direct and gloriously globby performance called "Double Headed Axe" and if you have headphones, all the better, it'll melt your face off even more. It was shot in Los Angeles, but edited in Edmonton by Kyle Armstrong, who also did the sound.
Fun trivia about this piece is that the cat's name is Dawa, and she's traveled the world with Nancy.
The other fun trivia is that this piece features Canadian film and TV star, Susan Kent!  Gothtober has a history of having some fabulous Canadian contributors, welcome Nancy and Susan to our crazy calendar! Yay Canada!
This is not Nancy's first Gothtober, however, she has been in many a piece by Gothtober Artist and Film Maker, Barry Morse, and also has collaborated with Julianna Parr in a Gothtober piece from 2011. This is Nancy's Gothtober debut in a project all of her own.